In celebration of their ninth anniversary, the makers behind bagsbyrubbertree give us a peek into their leather geekery, reverence for craft, and building a brand—and life—they love
Photos by Toto Labrador | Words and styling by Pierra Calasanz-Labrador | @labteamph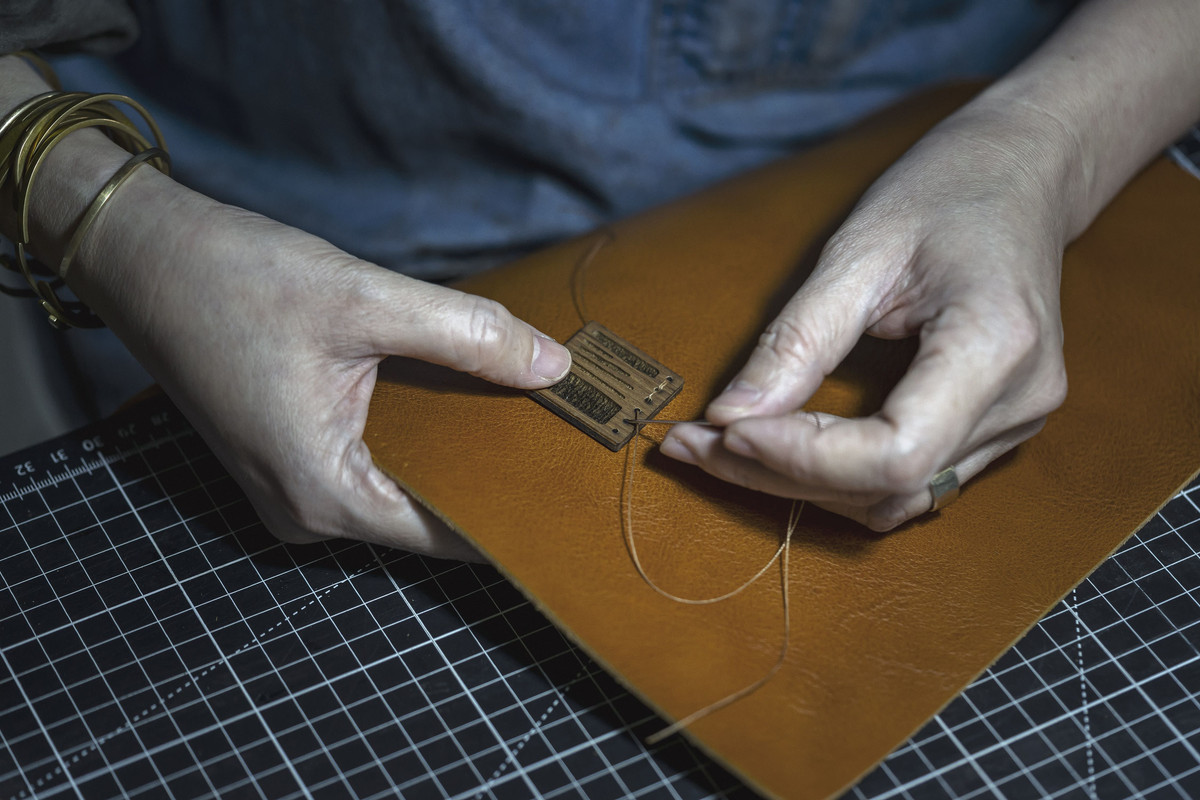 Do you remember the very first time you fell in love with a bagsbyrubbertree piece? Was it the clean, deceptively simple bag architecture, the thoughtful functionality, or the honest, handsome craftsmanship that spoke to you? Or maybe it was the witty spirit of the more playful pieces, or even the warm (but never hovering!) attention of the brand owners that drew you in?
I spotted my first bagsbyrubbertree "bag crush" at the 10a Alabama Fair, and I kept circling back to the booth that before I knew it, I had a relationship not only with the bag (and several more through the years), but with the owners Ruben and Trina. Is this your story, too?
This July 2021, bagsbyrubbertree is celebrating nine years of #mindfulmaking, not to mention, surviving 2020 as a small homegrown business. In humble gratitude, they invite us to journey with them as they take us back to their roots, why they do what they do, and what's next in their story so far.
IKIGAI
You know that Japanese word ikigai, that one thing that gets you out of bed in the morning? For Manila-based design couple Ruben and Trina Flores, it's mindfully crafting purposeful leather pieces by hand.
Designers by profession for over 20 years, the hours spent in front of a computer screen made them long to create something tactile and artisanal on the side. "We didn't even have a business or marketing plan, but we knew that we wanted to make bags that were classic and utilitarian," shares Trina. With a shared aesthetic, a dedication to process, and a nerdy passion for leather, bagsbyrubbertree was born.
Nine years in, the side hustle has grown organically into a full-time, sustainable craft, and it's still something they look forward to, every single day. "It's a constant education, an ongoing conversation between us and the material; every piece a learning piece until now."
EASY, HONEST, FILIPINO
Whether you spot a gorgeous Day Pass, a travel-worthy Scout, a playful T-Party clutch, or a chic Studio Line Sling in the wild, there's something about every bagsbyrubbertree piece that makes it instantly recognizable—and it's not just the signature wooden tag. "They're easy, honest, and Filipino," Trina and Ruben confirm.
In approaching the architecture and spirit of their designs, they first considered what they themselves looked for in a bag. "We've always been bag enthusiasts—Ruben with his outdoor requirements, and me with my everyday requirements—I was very particular with carry, and size... I had a lot of quirky bags, but they had to be practical too." No trendy bells and whistles here—each bagsbyrubbertree piece is built to be deliberately straightforward, mindfully designed for usability, and beautifully handcrafted to journey with you for years.
"Sensibly Good Design," a phrase they often use in their design practice, is what inspires them; it's at the core of everything they do. "This ranges from architecture, to food, stories, movies... achieving simplicity not just in our builds, but in our everyday," shares Trina. "Travel, seeing places, and conversations with people inspire us, too. Japan needs a special mention—it's complex and beautiful, simple and appreciative."
Enamored by the understated, minimalist Japanese aesthetic, it's always a thrill when customers describe their work as "very Japanese." Yet, they are most proud of their bags as the work of Filipino hands, made for the contemporary Filipino lifestyle.
That being said, they are careful not to push to #BuyFilipino. "Even if we have being Filipino and sustainability in mind, we don't use them as marketing handles. We want the draw to be pure." While they love how the current movement to support local has helped foster appreciation for homegrown brands, they don't want it to be a customer's sole agenda.
"For us, if you're buying a piece, gauge it in terms of its design and its eventual use to you—whether the draw is because it's pretty, or that the size is perfect for a device you have. We believe that it is our responsibility as makers to deliver good products. Each bag is a commitment, so we hope you choose to purchase us on the merit of the product itself. Let it just be a bonus that it's local."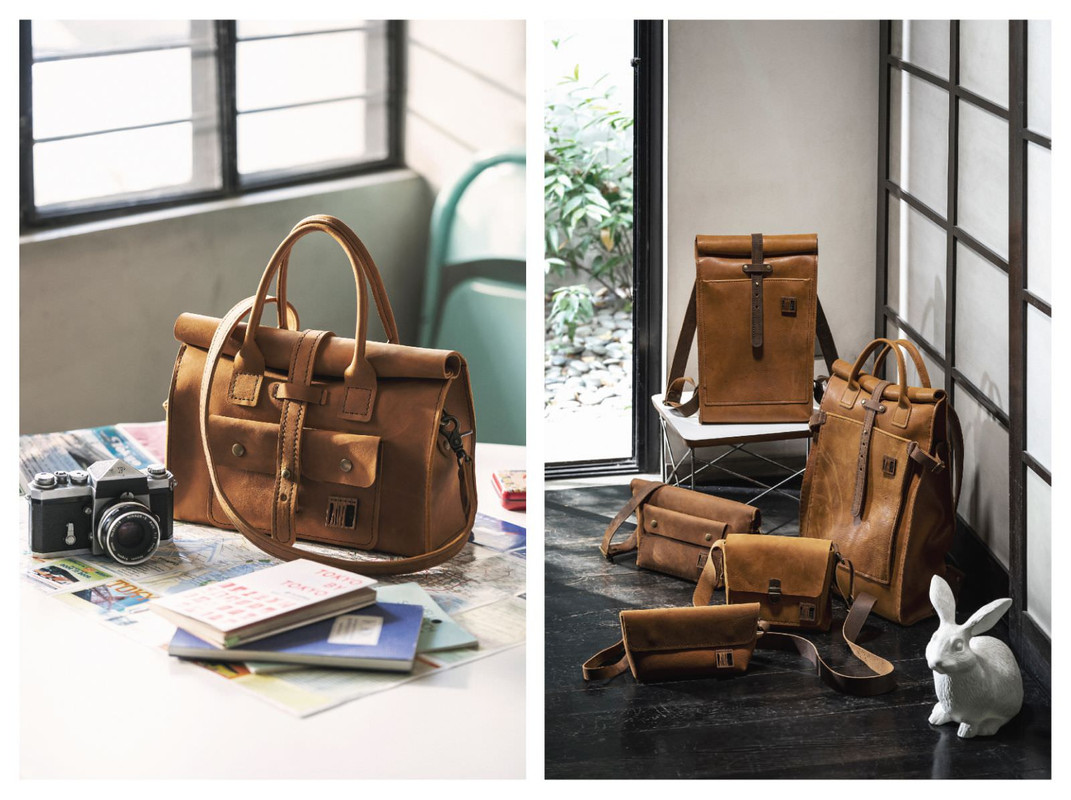 HIDE N' GEMS
Before they even design a bag, they need to know what kind of leather they are working with. And that means... treasure hunting!
"In the beginning, it was all about, 'Oh, this is a nice color or finish to use,' but after a few months, nag-deepen ang understanding of the material," Trina reveals. Helpful guidance from an expert manong (shout out to Kuya Cesar Guanzon of Otto!) and years of hands-on experience have trained them to recognize quality leather and its possibilities.
After a hide catches their eye, they reach out and touch it to check how it sounds. "In the many rolls, we look for a squeak. If we like something, we pull it out and see how the grain works. We also have to make sure that it's clean and there are no scratches or cuts," Trina shares. If there are markings that seem interesting, they consider exploring what they can do with the material without affecting its strength, respecting the authentic nature of the leather.
The selection process is highly intuitive, so it's important that it's done personally. "It's such a thrill, especially when we spot one-off rolls of leather that nobody pays attention to—ang tindi, it's like hidden treasure, or shopping for shoes."
REVERENCE FOR CRAFT
More than just a visceral love for leather, there is a deep respect for the material at all points of interaction. "From handling it while in the store, to loading and unloading rolls, prepping for cutting and assembly, until it's a finished product. There is reverence. It's a conversation with the material."
Each day at their cozy, compact QC studio/showroom brims with blissfully creative energy. Fueled by coffee and mood music (Ruben's vast collection of rock and roll, blues, old school funk, or Trina's "girls": Aimee Mann! Edie Brickell! Rickie Lee Jones! Natalie Merchant!), the two collaborate on designs, engage in random banter, then dive into focused quiet for hours.
"Over the years, we've pretty much defined that the more masculine pieces would be started off by Ruben and then I would do the more feminine ones, but we don't release anything until we critique each other's work. That way, they're kinda androgynous. It makes us super happy when we see guys getting the totes," Trina shares. "Matagal ko nang gustong i-push. Paano kung marami kang dala, no?"
"They can always use a backpack," Ruben teases.
When they first started crafting leather bags by hand, there were no other design studios doing the same thing, so tools were hard to come by. Trina holds up a treasured tool and shares, "This single hole puncher, for example—I was making holes one by one with this for about the first three to four years." And even when time-saving tools became more readily available as other brands opened for business, Trina would find herself reaching for her trusty single hole puncher. "It kinda becomes muscle memory—getting into the rhythm of punching the holes one by one. It's such a meditative process."
To this day, every stitch and every step is still mindfully made by hand, by choice. "Nothing is automated. It seems that the local practice has always been to encourage small businesses to scale up [into big operations], but we are happy with the way things are," confides Ruben.
Suggestions to invest in automation or hire a huge team to churn out pieces in multiples would defeat the purpose and take away from the joy of making. Trina adds, "It's funny when people advise us to put a system in place, because there is a system, and it's designed for our scale of making. Again, it goes back to design decisions—we only introduce build processes we can roll out to all of our pieces. The point is sustainability on a small scale."
Inspired by the indie craft studios they've come across in their travels (Shimokitazawa in Tokyo is a favorite), they want to foster an appreciation for their own kind of intimate and artisanal set-up in Manila. "[We want to show] it can work. Of course, many of those communities are supported by their governments," he sighs. "Still, it's possible here."

10a ALABAMA INCUBATOR
If you've been a fan of bagsbyrubbertree for quite a while, chances are, you stumbled upon them at the (now defunct) 10a Alabama Arts & Crafts Fair. "10a Alabama is a special and important part of our story. Going back to the question of what inspires us, it is meeting like-minded individuals. Our Alabama family is a group of really creative, helpful, and honest people who we share basic principles with."
Held roughly every quarter in a cozy New Manila bungalow, the fair featured a fresh, eclectic group of indie artisans and makers in an atmosphere so welcoming, vibrant, and inspiring that 10a Alabama has been credited as a major catalyst in the local handmade movement.
"We joined in 2012, prior to that, we'd go and visit the weekend fair. The energy that it has—no-nonsense, having fun, sharing and lifting each other up—you feel it, without having to define it. And we really wanted to be a part of it. It was the only arts and crafts fair in the metro then. It was also the only art fair that required that the makers personally man their own table! It was a quiet lesson in holding your own and having the courage to stand by what you made."
PERSONAL CONNECTION
Manning their booths at 10a Alabama and other pop-ups has allowed them to connect with customers on a deeper level, with many clients becoming friends.
"There is a respect that is shared. Pre-pandemic, we've made ourselves very accessible. Our pop-ups were venues for interaction. We set up ourselves, sometimes with the kids in tow, we man the pop-up and we pack up after the pop-up. When the pandemic struck and we wanted to contribute to those in need, the same clients/friends did not think twice to extend help in the drives we set up, apart from our flash sales. The trust extends beyond the bags. And to us, that's a very valuable relationship that we hold very dear."
Intentionally low-key, they don't spend on social media ads and prefer to connect with clients directly.
"We never want to lose that sensitivity with our market. Sometimes we talk about it—do we want to grow our market, extend to people who wouldn't normally buy us or understand us and actually care how we make? But we always end up thinking that we'd rather take care of the ones who understand. So it's nice that there's a new set of people every so often, very old school and trad in a way, who discover us by word of mouth, or stumble upon us via instagram—our only social media. For us, it's comfortable, and it works."
From artists and adventurers to urban professionals, soccer moms to rock stars, their diverse market shares an appreciation for their thoughtfully handcrafted bags. With each OOTD, travel adventure, and lifestyle shot featuring bagsbyrubbertree, Trina and Ruben feel like they are part of a client's journey. In turn, the couple provide after-sales service, which can range from minor cleaning, to thorough bag repair. "That's our commitment to everyone. We love seeing how our bags hold up out there." Sometimes, a client will apologize for the appearance of their beat up, well-worn bag, unknowingly paying the couple the biggest compliment. "Makikita mo kung gaano kagamit yung piece—nakakakilig!"
FAITH AND FEEL
"When we first joined 10a Alabama, another artist friend commented that the branding was so strong. But we weren't even conscious of it."
They may not have had a marketing plan or even sales projections, but they implemented systems they learned from their design work and simply built the brand by feel and expertise. "When it comes to developing our designs and processes, there's a constant awareness of the big picture. All functional developments are automatically cascaded to relevant pieces and each small change affects everything else." Intuitive, but systematic.
"We documented everything, took snapshots of each bag from when we began. We already had a logo for our design studio, so we thought, let's etch it onto wood, sign it, and assign a number at the back of the label."
Their approach was exciting and unprecedented. Trina adds, "Even now, it's still exciting, because the way we approach the work still is organic."
The biggest leap so far is moving operations out of their family home and actually renting a studio. "Everything from making the bags, to setting up at pop-ups, and even taking photos of our items—except for this anniv collab—has all been DIY. That's what makes it fun. And real."­
Running their own business also means they don't have to live by traditional standards. "We don't pressure ourselves to dispose of a [slow-moving] piece as quickly as we can. There's no marker of, oh, we need to sell this number of pieces by this time."
A big turning point in their craft was weaning off from accepting custom work. "Each person has a dream bag, but it's not always easy nor simple to align. We will always have our build method as our main parameter. For us to make the best bags possible with our build method, we felt we had to be in control," Trina reveals. "We have a handful of client/friends who totally trust us with custom work—when we feel the trust, it's easier to plan the build and make it."
How do they keep designs fresh? "Iteration. It's always moving forward, not back. Some may easily dismiss our pieces as simple. They look simple because everything's deliberately edited." Ruben, who used to teach at UP Fine Arts, would always tell his students: "Keep the solutions simple so you don't create new problems along the way." Meanwhile, Trina, who was a painting major, was trained in documenting every step of the making process. "It allows you to reassess your goals and be focused with your goal. And also: bull will always be bull. You can't always be there to explain your work, it has to stand its own."
Thus, so much thought goes into each piece, and sale-ability never comes in to play. "Design is exploration. This is something we set out to do from day one. Again, you need to give yourself freedom when you go about doing this—explore forms and methods freely then reel all the ideas back in in the end. Edit, a lot."
They know they're on the right track when clients happily welcome newer iterations of favorite designs. "We noticed repeat purchases are usually similar to what they already have—the ones who buy the totes, or backpacks, or slings, continue to purchase the same design." (Me, making a mental inventory of the number of Scouts in my own closet and wishlist...) It's a testament to how bagsbyrubbertree fits so ideally into our lifestyle.
Their personal favorites? "The pieces we end up making are pieces that I'd like to have and use, so over the years, it varies, depending on current needs," Trina says in diplomatic Mama mode. Ruben, however, has a soft spot for all the iterations of their Roll Top. "From our original Roll Top Travel Bag, it morphed to many other pieces, like our Day Pass, the Bike Bags, down to our current Commuter Fanny."
WHAT KEEPS US GOING
In 2020, like most businesses, the pandemic threw them for a loop.
As non-essentials, sales expectedly slowed down. On the upside: "Finally, may laman ang website!" Ruben quips. They took it as a chance to build inventory, especially for clients who lament that their unique pieces always get snapped up so quickly.
The lockdown was also an opportunity to exercise another core of their brand: sustainability. It challenged them to design smaller, more affordable home and gifting pieces while, as always, adhering to mindful usage and consumption of material. Calling it their "Pandemic Essentials," the collection includes multi-use Little Cubes, Flat Spritzers, and the chicest leather Tissue Holder you ever did see.
Whether through times of prosperity or uncertainty, the one thing that gets them through is simply the art of making. The pleasure of being able to get up in the morning and look forward to doing the thing they love. They also feel incredible pride when they spot their pieces in the wild, or when clients send them photos of their bags through the years. And oh, nakakataba-ng-puso surprises like VP Leni Robredo dropping by their studio to shop. "Definitely at the top of our list!"
Also giving them life: the positive energy at pop-ups. "We like watching everyone having a nice time. You feel the community. And listening to clients exchange thoughts on bags and pieces and even curating each other—kahit hindi sila magkakakilala! Clients who have become friends come to our pop up to hang out, not necessarily to buy anything, just to be there to say hello and catch up. Ang sarap ng feeling that they have found a home in us. That's why we miss pop-ups so much!"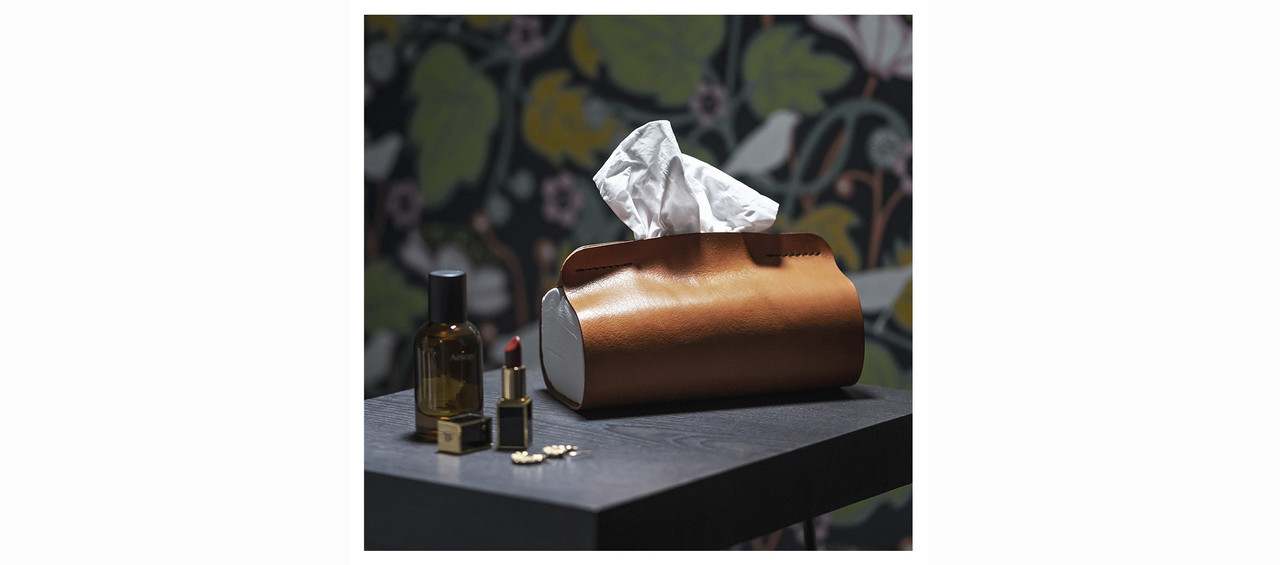 #bbrtlife
With their design backgrounds and passion for materials, expanding into a lifestyle line is a natural progression. Slowly, surely, intentionally.
"We would like to eventually see our bags sit alongside home pieces in our own modest lifestyle shop. We are slowly doing this, with #bbrtlife, a slow accumulation of pieces designed for every day use. There's an eagerness to work with materials other than leather." Stay tuned!
When Trina and Ruben talk about craft, it's always bigger than just bagsbyrubbertree. They hope to grow within a craft community that seriously challenges individuality and creativity while supporting each other. "It's easy to talk about passion, but it will always be a challenge to live it and be it. There can never be enough unique voices."
I think fellow bagsbyrubbertree fans will agree that the love for the brand extends beyond the products; it's also an appreciation and admiration for Ruben and Trina as true advocates of the mindfulness of making and of being makers, renegades in this fast fashion, consumerist society.
"Reducing our load until eventually relieving ourselves of the work wouldn't feel like success at all. The goal is to allow ourselves to continue working and to embody it. To always stay engaged." To find satisfaction and wonder in the everyday work of their hands. That this intentional, inspiring small-scale business can be enough. Ikigai, indeed.